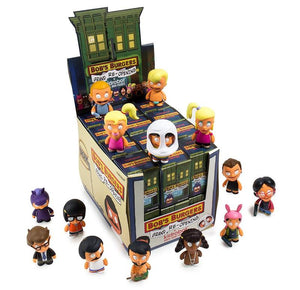 Bob's Burgers Grand Re-opening 3" Mini Figure Series FULL CASE
Kidrobot is proud to present Bob's Burgers fans with an all-new collectible Bob's Burgers Grand Re-Opening 3" Blind Box Mini Figure Series to follow up the wildly popular first Bobs Burgers Blind Box Mini Figure Series.  This new mini figure series travels deeper into the world of Bobs Burgers with the character selection only fans can appreciate!  The Belchers are back baby!  Bob, Linda, Tina, Gene and Louise are coming at you in all new ways and ready to play all day on Wonder Wharf with a few of their favorite friends! Come on down to the grand re-re-re-opening of Bob's Burgers and collect all 16 characters today at Kidrobot.com!
*Purchase of a FULL CASE of these figures does not guarantee you will get all the figures in the series.
Collect them all:
Bobcephala figure - 3/48
Bronconius figure - 1/48 (rarer)
Bob with walking stick figure- 2/24
Gene with removable underpants on head - 2/24
Linda laser razor tag figure - 2/24
Louise laser razor tag figure - 2/24
Tina figure - 2/24
Hugo figure - 1/96 (extremely rare)
Mort with removable hairpiece figure - 2/24
Zeke figure - 2/24
Gretchen figure - 1/24 (rare)
Regular Size Rudy figure - 2/24
Tammy figure - 2/24
Speedo Guy figure - 1/96 (extremely rare)
Gene (as Bob) figure - 2/24
Marshmellow figure - 1/48 (rarer)
---
We Also Recommend