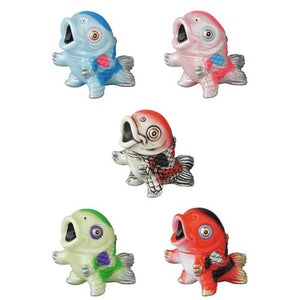 Vinyl Artist Gacha Box - Koibouz Individual Blind Box from Medicom Toys
From MEDICOM Toy Company. Vinyl Artist Gacha goes blind! In 2015, MEDICOM Toy introduced Vinyl Artist Gacha, a mini figure format combining top Japanese artists with Japanese gacha toys to bring art toys to the masses. With the success of the program in Japan, MEDICOM is now presenting the line in fun, easy to collect and trade, 10 count blind box displays! Each series has a single sculpt in five colorways. Collect all five, or trade your doubles with friends to get the whole release!
Japanese artist PicoPico is the twisted mind behind vinyl creations like Gacky-kun. With Koibouz, PicoPico applies their aesthetic to the classic koi fish form in five different colorways.
---
We Also Recommend