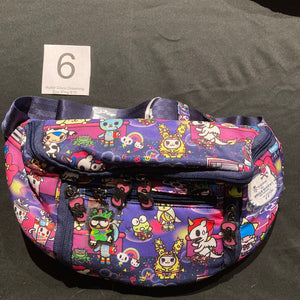 Roller Disco Dreaming Eco Sling (#6) from Ju-Ju-Be x Tokidoki x Sanrio
Available items are listed individually (by number). Print placement varies. If a print number shows out of stock or is missing then it was already purchased and is unfortunately no longer available.
Compact. Efficient. Earth-conscious. Crafted from 7 single use plastic bottles, our Eco Sling fuses fashion, function, and fun while keeping trash out of the landfills! Two ways to wear it - sling style across the body or fanny pack style around your waist. The adjustable buckle is stylish yet lightweight made from a hybrid of metal and plastic materials. You'll have fun deciding what to put in the 5 exterior pockets ... plus the main interior has built-in slots for your credit cards and a key clip. Matte hardware and Eco Leather accents complete this elevated eco look. This 2 in 1 bag keeps you carefree and hands-free while you do your part to save the world!
Another industry first by JuJuBe! Recycled from single use plastic bottles, JuJuBe's eco-friendly diaper bags turn "waste into want"! How does it work? Single use plastic bottles are responsibly converted into fibers and then woven into luxurious fabrics. Recycled yet refined … we proudly introduce The Eco Collection.
Features & Specifications
Dimensions –

 

11"L x 5"H x 2 3/4 D - adjustable buckle strap: 11/4"W x 37" L

Smart Pockets –

 

5 exterior pockets including 1 main zippered pocket, 1 front zippered pocket, 2 micro side pockets, and 1 long back zippered pocket; Built-in interior credit card slots and key clip

Functional Fabrics –

Created from 7 single use plastic bottles, Light-colored lining; Highly stain resistant material; Interiors treated to resist bacteria, mold and mildew; Eco Leather trims made from 40-46% post-consumer recycled polyester; breathable mesh back panel with decorative stitched star

Comfortable Straps – Crossbody strap
Durable Hardware – 

Adjustable, lightweight buckle made from a hybrid of metal and plastic materials; Wear sling style crossbody or around your waist in a traditional fanny pack style

Extras –

Wipe clean;

Limited lifetime warranty
---
We Also Recommend