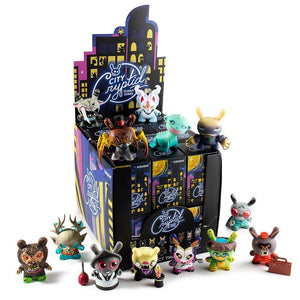 City Cryptid Dunny Art Figure Series by Kidrobot FULL CASE
This collectible vinyl art figure series features Dunny designs by an all-star cast of groundbreaking artists.
Each of these 3 inch tall Dunny Art Figures comes foil bagged and blind boxed to preserve the rarity and collectibility of each piece. Even we don't know what is in each box. Chase down and find all 16 cryptids and earn the key to their city! 
*Purchase of a FULL CASE of these figures does not guarantee you will get all the figures in the series.
COLLECT THEM ALL!
Sasquatch Dunny by Skinner - 3/24
Kappa Dunny by Scott Tolleson - 2/24
Chupacabra Dunny by Alex Pardee - 2/24
Wendigo Dunny by Scott Tolleson - 2/24
Bunyip Dunny by Craola - 2/24
Ahool Dunny by Chris Lee - 2/24
Jersey Devil Dunny by Chris Lee - 2/24
Mothman Dunny by Chris Ryniak - 2/24
Loch Ness Monster by Tara McPherson - 2/24
? - ??/?? (Extremely Super Rare Chase Piece)
J'Ba Fofi Dunny by Craola - 1/24 (Rare)
Ningen Dunny by Charlie Immer - 1/24 (Rare)
Kitsune Dunny by Candie Bolton - 1/24 (Rare)
Flatwoods Monster Dunny by Amanda Louise Spayd - 1/48 (Extremely Rare Chase)
? - ??/?? (Extremely Super Rare Chase Piece)
? - ??/?? (Extremely Super Rare Chase Piece)
---
We Also Recommend