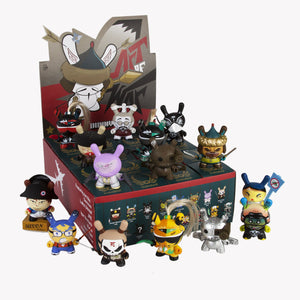 Kidrobot - Art Of War 3" Dunny Series FULL CASE
Kidrobot has unearthed a long-lost chapter from Sun Tzu's military classic! 14 artists each tackle an aspect of warfare in the latest, martial-themed Dunny series.
Featuring a spectrum of WMD thru the ages, learn from designer toy generals: Colus, Devious, Frank Kozik, ilovedust, Igor Ventura, Kano, Luihz Unreal, Huck Gee, DrilOne, Sergio Mancini, Patricio Oliver, JPK, Sam Fout and Shok1 - treatise topics include The Calculations, Illusion & Reality, and Vinyl Attack.
*Purchase of a FULL CASE of these figures does not guarantee you will get all the figures in the series.
---
We Also Recommend