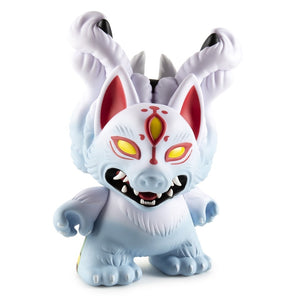 KidRobot Kyuubi 8" Dunny Art Figure by Candie Bolton
Asian cultures commonly depict foxes in folklore as tricksters and shape-shifters. They are particularly known for impersonating beautiful women that interact with humans, often for malevolent reasons. As foxes age, they gain more power and wisdom, represented by the number of tails they have. It is said, a nine-tailed fox has lived for over 1,000 years.
Full of infinite wisdom, the Kyuubi Dunny stands ferociously, ready to generate fire from her tails for any danger that may approach. Kept stored away in a carefully crafted box painted with red flame, the Kidrobot x Candie Bolton 8" Kyuubi Dunny offers a delicate and mighty wisdom to any collection. 
---
We Also Recommend