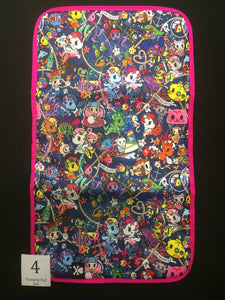 Sea Punk Changing Pad (#04) from Ju-Ju-Be x Tokidoki
Available items are listed individually (by number). This is because print placement varies. If a print number shows out of stock or is missing then it was already purchased and is unfortunately no longer available.
No diaper bag is complete without a comfy changing pad for your little one. This changing pad is made from soft memory foam, providing comfort for your baby during changes, no matter where you are. The interior is treated to prevent bacteria, mold and mildew from growing, keeping your little one safe and healthy. The exterior is stain-resistant, so there's no need to worry if your makeshift changing surface isn't as clean as you'd like it to be. At the end of the day, simply wash the pad in the washing machine and air dry.
Features & Specifications
Dimensions – 12"W x 21"H x 0.25"D
Fabrics – Memory foam core; Agion-treated interior resists bacteria, mold and mildew; Teflon-treated exterior resists stains and repels moisture
Extras – Machine washable: spot clean, wash in cold, air dry and limited lifetime warranty
---
We Also Recommend