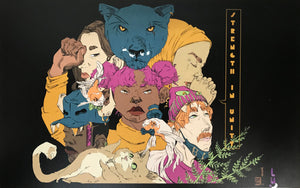 Strength in Unity Print - Large
Strength in Unity is inspired by the hopeful thinking of up-and-coming Detroit artist Lu, who grew up surrounded by individuals of different walks of life. Unity and balance is portrayed in the design of this piece, not only by the character but through the triangular pattern of color placement and the overall circular form of the design. Strength in Unity evokes togetherness and community, with each character having their own story, thoughts and actions while still uniting under a cause of equality.
Follow Lu on Instagram @luciddreams_art
13" x 19" print, signed by artist

LIFT will not be taking any profits from the sale of this print. All proceeds will be split by the artist and non-profit organizations fighting for justice and equality.