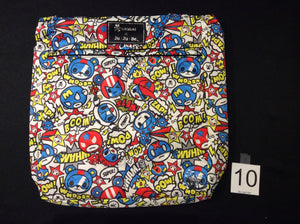 Sweet Victory Be Light (#10) from Ju-Ju-Be x Tokidoki
Available items are listed individually (by number). This is because print placement varies. If a print number shows out of stock or is missing then it was already purchased and is unfortunately no longer available.
This compact tote bag is so light that you'll almost forget you're carrying it. When traveling, you can fold this bag up so small that it barely takes up any room in your luggage, giving you whole extra bag's worth of packing space for souvenirs on your way home. For shorter jaunts around town, you'll have plenty of space to pack everything you need to care for yourself and your little one. Multiple pockets make it easy to keep your stuff separate from baby's. and zippered closures keep everything secure.
Features & Specifications
Dimensions – 12"W x 14"H x 3"D
Pockets – 1 zippered pocket in main compartment; Zippered closure on main compartment; 2 bottle pockets with Thinsulate by 3M
Fabrics – Light-colored lining; Agion-treated interior resists bacteria, mold and mildew; Teflon-treated exterior resists stains
Straps – 2 tote straps with 10" drop; Reinforced fabric loops for attaching messenger strap (Sold separately) or other accessories (Sold separately)
Hardware – Metal hardware
Extras – Machine washable: spot clean, wash in cold, air dry and limited lifetime warranty
---
We Also Recommend